Daejeong, le 23 mars 2021
One of the perks of living on Jeju-do is the walking trails. There are so many, I know I will never walk them all. Many, many take us up and/or around Hallasan, the extinct volcano responsible for the creation of Jeju-do and a series of smaller islands surrounding it hundreds of thousand of years ago. Other trails take us through forests. Then, there are the Olle Trails.
I read about the Olle Trails but can't recall all the details. Mostly, I've walked many of the 26 Olle Trails. Most of them go around the island close to the ocean shore. Three of them are off Jeju-do on smaller islands. Even if it was the most difficult Olle Trail to walk, one of my favorites is on Chuja-do, an island one hour north-west of Jeju-do.
I travelled to Chuja-do with Stephanie and three friends in the fall of 2020. The ferry to go is a large catamaran leaving from the Jeju City port. The catamaran can carry about 200 passengers. The winds were quite strong that day. The boat was moving up and down so much that looking out the window, you would see the water and seconds later, the sky and the sea, the sky, sea, sky, sea, sky, sea, sky… Well, within fifteen minutes, Stephanie exchanged her seat for the toilet. I concentrated looking in front and not out the window. I lasted another 20 minutes or so. Stephanie had not come back but I then felt so nauseous I had to join her in the back of the boat. I had a lot of trouble walking there as the catamaran rocked from left to right quite a bit. Fortunately, there still was an empty stall where I proceeded to lose my breakfast. I'm afraid to say I was far from the only one in the same situation.
The effects of that rocking left us rather quickly after our feet hit the ground on Chuja-do. We slept on the island and came back to Jeju-do the next day on a calm sea. The walk consists of going up and down six oreums. In the guides, it is qualified as difficult and it is, but worthwhile because also soooooo beautiful. The people of Chuja-do take such good care of their island. That, combined with the natural sights of hills, shores, fishing enclaves, the ocean, and nearby uninhabited islands make Chuja-do a real wonder.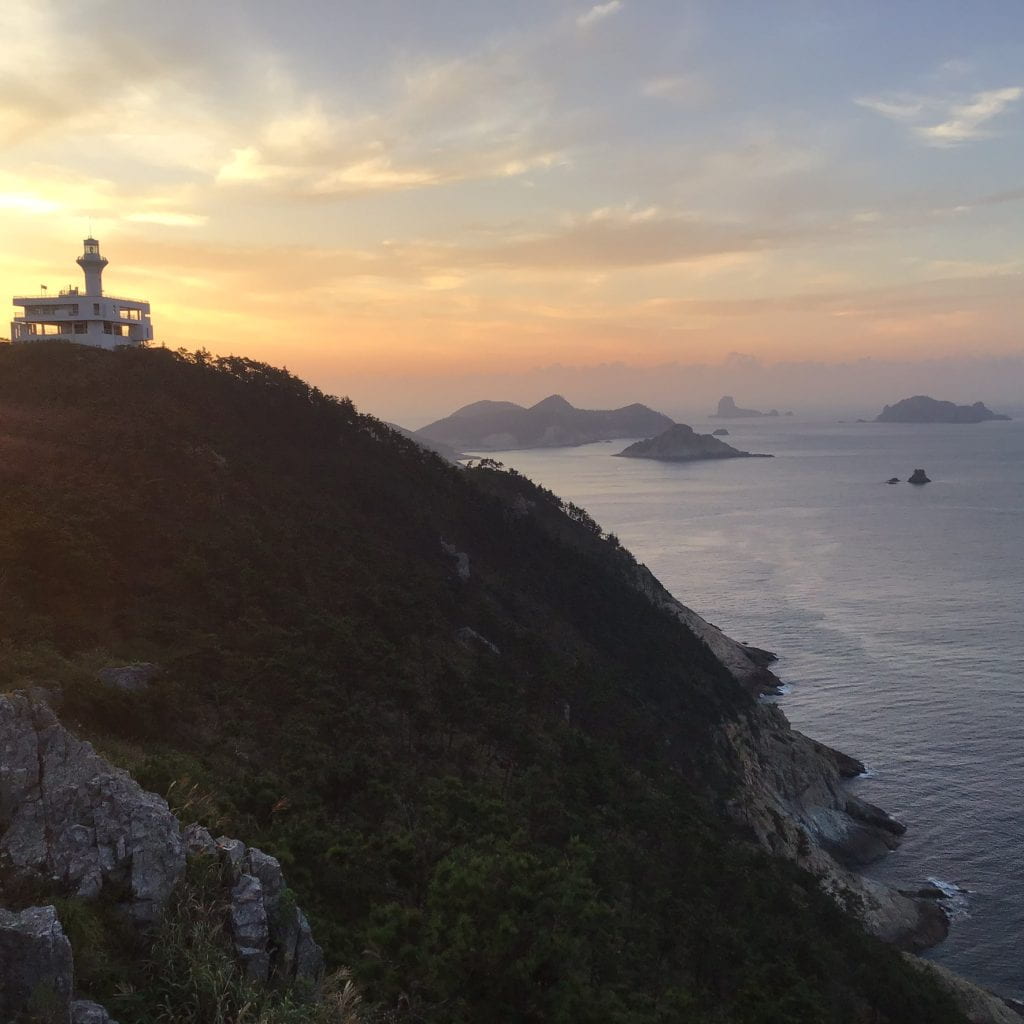 I'm looking forward to go back. Maybe not the ferry …